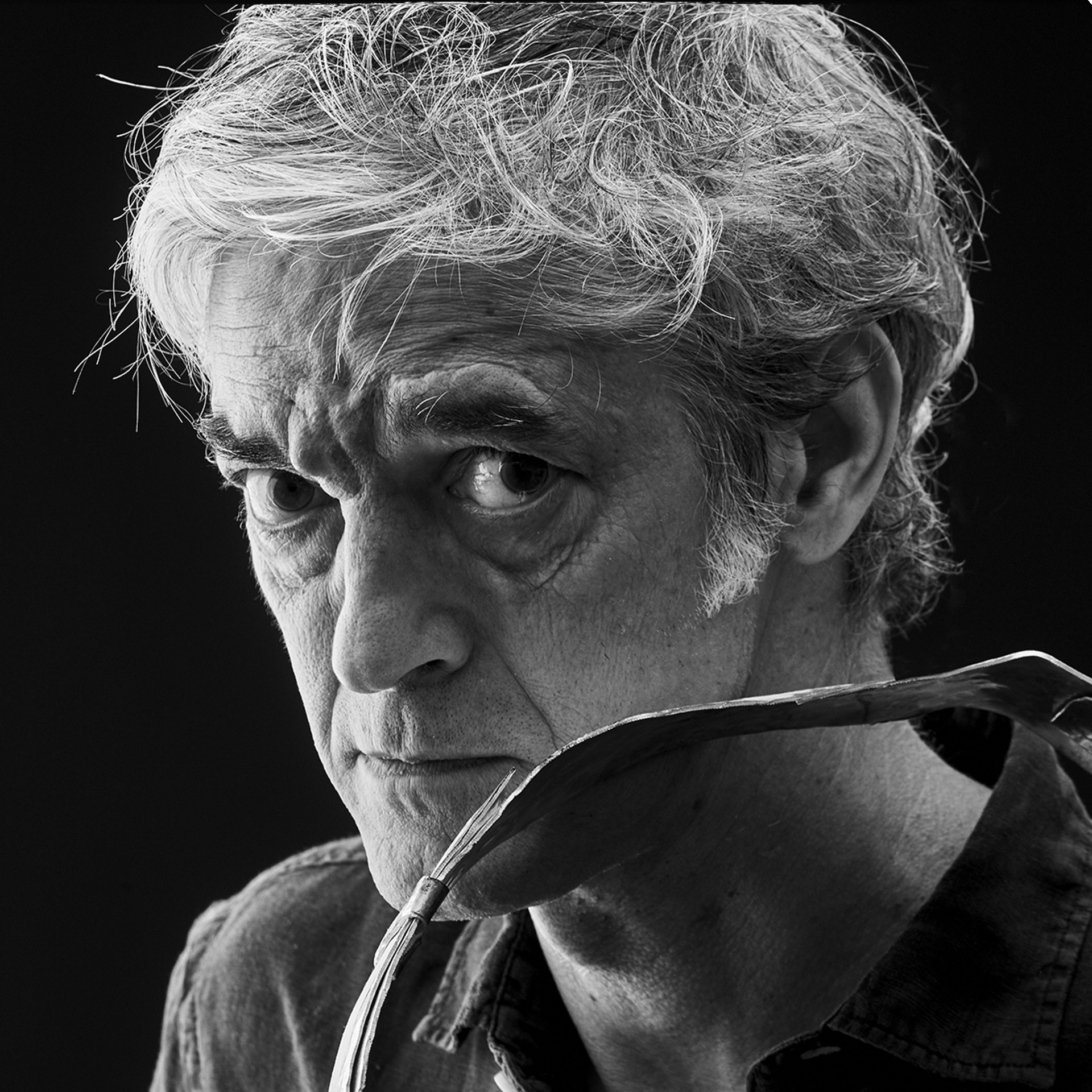 Jacques Jarrige was born into a Parisian family of art collectors and scientists in 1962. In his youth, growing up in neighborhood of St. Germain, he was struck by the intensity of the African sculptures on display in the many neighborhood galleries. How could they evoke such reaction deep inside; how could such seemingly simple objects emanate so much power? It was a question that stuck with him. As a young man, he enrolled in the department of architecture at the École Nationale Supérieure des Beaux-Arts but was frustrated in the narrow scope of the program. While he liked the functional aspects, he chafed at the monotony of the forms taught. Driven by the urge to make things with his hands, he abandoned the school in favor of making functional sculpted design objects. His interest in spatial relations led him to courageous explorations of void and volume in his art and design. The works of Moore and Calder, as well as the furniture of George Nakashima and Alexandre Noll, encouraged him to trust his intuition and reveal the forms that he sensed within his reach.
Instead of pursuing a decorative approach, he engaged in an ongoing dialogue with humble materials that he created — a practice he became known for — patiently shaping, carving, and altering them with simple hand tools. No master plan or elaborate drawing ever stood between him and the wood or metal that spoke to him, to his body. Each physical gesture informs the next, until the final piece emerges, embodying every gesture and impetus that brought the works into being, with a quiet meditative focus that the slow process of the craft demands.
In 1991, Jarrige was invited to join Frederic de Luca's influential avant-garde gallery "En Attendant Les Barbares." Recognizing his exceptional sensibility, de Luca encouraged Jarrige to relentlessly pursue his own voice. He began to show regularly in Europe, and found a devoted audience. The work of this period was primarily sculptural furniture and design objects. He found success combining his direct and meticulous process with a growing vernacular of organic and flowing shapes. In 2010, he gained representation by Valerie Goodman Gallery, and since then his objects have become increasingly more free and dynamic — his furniture seems like drawings in space, while his wood, aluminum and brass sculptures have reached a new monumentality without losing their fine-boned elegance. With Valerie Goodman Gallery, Jarrige has had four solo exhibitions and shown work globally, garnering new attention and kudos. During this period, Jarrige started to experiment with small jewelry as a way to stay busy while away from his studio. The work was a new form for Jarrige but speaks the same language as his grander objects, on an intimate scale. He began to work directly with the human body as a uniquely challenging physical space, developing new forms to unify the lines and movements of the wearer's body. These striking bands and pendants of energetically hammered metal feel more like intimate companions than ornaments. They evoke the sepals, petals, and stamen of flowers; pushing and focusing attention and interest to the wearer. These explorations in jewelry quickly informed new larger works, and instilled an approach in his work that had not been there before.
Jarrige began working less in the realm of design and furniture and found he was free to truly explore the vagaries of pure abstraction. The new abstract works became the dominant impetus for his practice. Shows then came in quick succession between 2015 and 2018: large scale sculptures were installed in the French Consulate in New York, at the Queens Museum in two exhibitions curated by Vida Sabbaghi, in a municipal community center outside Paris, and in private residences and experimental art spaces. In 2022 Jacques Jarrige was invited to create a large sculpture for the Cathedral church of Saint John the Divine in New York and to participated in ECC's Venice Biennale at Palazzo Mora. His work has been published in a number of magazines, most recently in AD, Galerie Magazine, Curbed, Elle Décor, Coté Paris, House Beautiful, The World of Interiors, and the Wall Street Journal.
CV
SOLO PUBLIC SPACE EXHIBITIONS
2022 Cathedral of Saint John the Divine, NY
2022 Pfizer building lobby, Brooklyn
2022 Palazzo Mora, Venice Italy room 219
2017 Rockland Center for the Arts, "Outdoor Sculptures: Curves #1, #2, #3" - West Nyack, NY
2015 Pullman Miami Hotel, "Waves" installation - Miami, FL
2012 Aqua Art Fair - Miami, FL
1998 Hôtel de ville de Paris / Salle Saint Jean - Paris, France
1989 Entrepôts de Bercy - Paris, France
SELECTED GALLERY SHOWS
2010-20 Valerie Goodman Gallery - New York, NY
2016 Galerie Avant-Scène - Paris, France
2009 Galerie Thierry Marchand - Paris, France
2006 Galerie Cat Berro - Paris, France
2002 Galerie Frédéric de Luca - Paris, France
1993 Galerie en Attendant les Barbares - Paris, France
1991 Galerie en Attendant les Barbares - Paris, France
GROUP EXHIBITIONS
2019 Children Museum exhibiton curated by Vida Sabbaghi - Siao-Long Park, Taiwan
2018 :"Obsessive Sea" curated by Vida Sabbaghi - 630 Flushing - Brooklyn NY
2016 "Grand Mobile" kinetic sculpture, curated by Vida Sabbaghi at the Old Pfizer building - Brooklyn, NY
2015 Queens Museum - New York, NY
2015 Museum of Arts and Design, "Loot Show" - New York, NY
2015 La Gaieté lyrique / CNAP, "Oracles du Design" - Paris, France
2014 Queens Museum - New York, NY
2013 Lotte Gallery - Seoul, Korea
2013 Nomades - Paris, France
2011 Nomades - Paris, France
2005 Musée de Châteauroux - Châteauroux, France
2000 VIA Paris - Paris, France
1994 Museum of Decorative Arts - Hamburg, Germany
1991 Musée de la Poste - Paris, France
MUSEUM COLLECTIONS
2002 Mobilier National
2004 Musée des Beaux Arts - Orléans, France
2005 Centre National des Arts Plastiques (FNAC)
Read More